I can't believe Easter is a couple days away! Growing up, I always loved Easter. At first I loved it for the chocolate covered candies and jelly beans I'd get to enjoy after a fun egg hunt in the front and back yard. But as I've grown, I've come to love Easter even more for what Easter really is about, the love of my Savior for me and His resurrection. My favorite part of Easter is getting to be with my family and friends at church, celebrating the resurrection of our King and of course checking out everyone's lovely Easter dresses.
I remember getting so excited about a new Easter dress and once I found the perfect dress, the anticipation grew as Easter got closer and closer. I still enjoy searching for the perfect dress and thinking of all the ways I could style it. If you're still looking for your perfect dress, no worries, you still have time and I've got you covered! Today I'm going to share some of my favorite dresses of the season and all of them are under $50.
Amazon Finds- If you have prime, you can get all of the following dresses in a couple days time! I love these high low dresses! They come in a variety of patterns & colors and features a higher waist, and a more relaxed fit, promising to be flattering on all body types. It's available in an x-small all the way up to 3x and it only costs $37.99. The other dresses below also feature a higher waist and a more relaxed fit.
Walmart- I featured a lot of different designs below. Walmart has some very simple dresses if you're not wanting to rock the floral look, but they also have a lot of different style floral dresses like the ones I've selected below. All of these dresses are under $50 and some are even under $30.
Old Navy- Many dresses are currently 50% off! All of the styles below are free flowing, spring dresses that you can wear more than just on Easter Day! All the dresses below are on sale and because they are 50% off you could walk away with a couple gorgeous dresses for under $50.
Target- Loving all the fun dresses at Target! I am loving the off the shoulder floral dresses currently and depending upon weather this Easter, a slip dress with a turtle neck under could be super cute!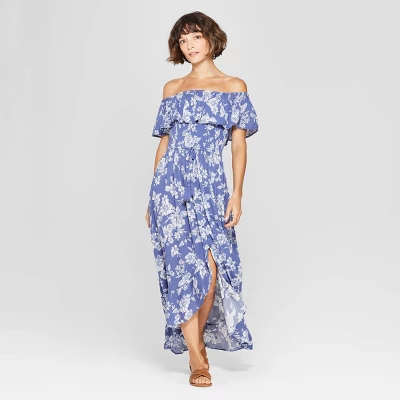 I had so much fun looking through the many dresses at these four retailers and just highlighting a few. There are so many more amazing dresses on their sites, but I hope you found some dresses you really liked in this post and that I was able to give you some ideas for your Easter look! As we look for that perfect dress, let us not forget about the perfect gift that God gave us and what Easter is all about! Enjoy the rest of the week, friends!